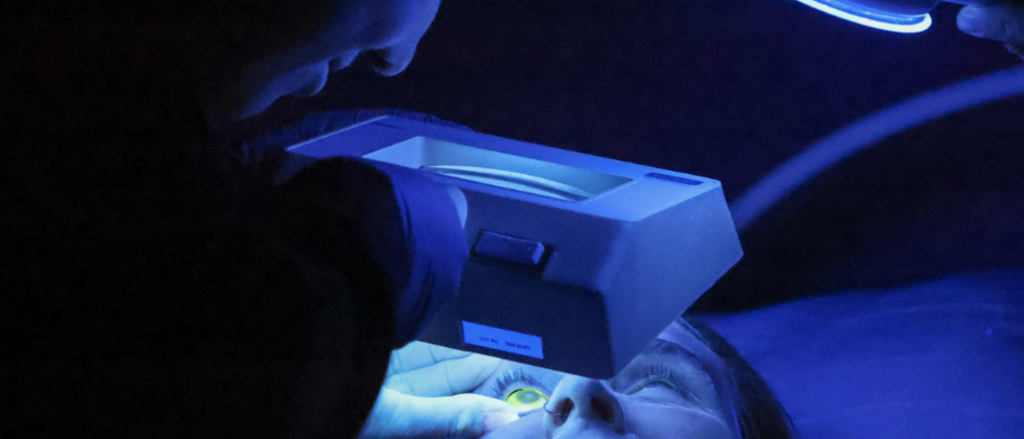 Sindt Ophthalmic Spatula
The Sindt Ophthalmic Spatula is an ophthalmic spatula designed for Meibomian gland evaluation and expression.  The unique curved surfaces allow one side to uniformly evert the eyelid for evaluation of the Meibomian glands while the other side can be used to assist in the expression of the Meibomian glands.  The spatulas have been used in over 100 patients to consistently evaluate and express Meibomian glands at the University of Iowa Hospitals and Clinics.  
One size, intended for use in adults only.
Quantities of 5 or more receive a 10% discount
Abrons Oral Airway
The Abrons Oral Airway is an oral airway with an articulating hinge intended for patients who are difficult to mask ventilate (DMV) or require flexible scope (fiberoptic) intubation. The locking hinge improves airway management by displacing the tongue, creating a greater cross-sectional area for mask ventilation, and improving glottic view during flexible scope exam.  The device can be intubated through, disarticulated and removed without disturbing the endotracheal tube.  
The Large (100 mm) size is recommended for patients with an incisor to ear measure >11 cm.
Single Use Only, Non-sterile
Protostudios Face Shield
The Protostudios Face Shield is manufactured under an FDA-compliant quality system using parts sourced from Iowa -- helps protect the facial area from splashes, sprays, and spatter of body fluids
Key Features:
Lightweight shields packaged in bulk, fully assembled, cleaned, and ready to use
Medical grade foam headpiece adds comfort
Designed for use with other desired PPE
Head piece features a closed top shelf to prevent falloff spray from above
Flexible arms allow for easy donning and doffing like a baseball cap
Hooks on arms accommodate a rubber band for tighter hold
A limited number of shields are available in increments of 40 only.  Due to production and distribution limitations, we will discontinue sales of the shield after the current inventory is depleted. 
Disposable Sindt Ophthalmic Spatula
COMING SOON
An Ophthalmic Spatula designed for single-use Meibomian gland evaluation and expression.  The disposable spatula has similar properties as our best-selling reusable spatula but with "out of the box" convenience.
Provided sterile, individually packaged with 100 per box. 
Arshava Forcep Wings
COMING SOON
The Arshava Forcep Wings provide improved ergonomics for forceps and have been shown to reduce hand fatigue for the surgeon.  Provided sterile, packaged as a set. 
Sales Syringe Adapter
COMING SOON
The Sales Syringe Adapter is  an attachment for a syringe to allow controlled plunger depression. It is currently in a limited release at University of Iowa Hospitals and Clinics and will be available to others soon.  Single use only. Adaptors sold sterile in boxes of 100.